The most trusted Credit cards store with over 1,000 + returning customers!
Learn About Dumps With Pin & How it Works
Unless we learn to know ourselves, we run the danger of destroying ourselves. Make your life easier by using our premium, freshly hacked dumps with pins. Our Visa dumps with PINs come from verified sources. PIN 2022 dumps can be purchased here for a very low price. That said, we also provide you with fast-paced administrations that are tailored to your preferences. Unlike the stores that sell counterfeit dumps with PINs, we sell genuine dumps with PINs. If you have any doubts, you can read the testimonials of our clientele on our site. We go to great efforts to help you earn money without having to work. Our squad of professional programmers is here to provide you with a variety of hacking services.
Where Can I Get Premium Dumps With Pin in 2022?
We sell PIN-protected credit card dumps. If you have no idea what it means, this blog piece will help you figure it out. Each Mastercard is equipped with a very appealing strip. The appealing strip provides all of the information unique to that card. This information is kept private.
The computerized impersonation of such data is conveyed by a Mastercard dump. It essentially communicates the card number, expiration date, and so on. This information is imitated in order to make fictitious trades or purchases. We intend to give you this credit card along with a dump and data, such as track 1 and 2 dumps with PINs. Three data tracks make up the appealing stripe.
The main track is where you'll find the information you're looking for. The principal track contains data that incorporates the Visa holder's name.  
The next track contains the credit card number and expiration date, while the third track contains information about client loyalty programs. It is not difficult for us to have access to a Visa's data. By skimming, hacking, or using other Visa hacking equipment, our experts can accomplish this in the blink of an eye. There are three tracks in each credit. You'll go if your credit card has enough money on it and you know one of the three tracks. Exchanges can take place on the grounds. The importance of track 2 is the greatest of the three tracks.
If you don't know how to cashout dumps with a pin, kindly apply for an instant money transfer (Paypal, Cashapp, Venmo, WU, and Bank Transfer).
The Dumps Best With Pin Vendor In 2022
There are many dumps with pin sellers or dumps with pin shops selling dumps with pins and CVV (CVV1 and CVV2) online, but we will offer you with the greatest, most up-to-date, and most fresh dumps with pins that are guaranteed to operate. Our dumps are authentic and current, which means you'll make a lot of money.
We are the top online dumps with pin shop. Purchase our crap because we never let you down. Wherever Visa, AMEX, Discover, Master, and Maestro are accepted, cashing out dumps using a pin is possible. The ideal method to use our dumps is to check your balance at the ATM first, and then you can use them in nearly any situation.
DUMPS
SCAM PAGE
CVV & CARDS
ACCOUNTS & BANK DROPS
The Best Underground Dumps Shop
You can get the finest experience by purchasing 101 dumps with a pin. Dumps with pins—track 1 and track 2 are in stock in our shop, so you can get them right now. Why should you use our services? We are a group of skilled programmers and carding creators who provide high-quality private services, including the sale of high-balance dumps, credit cards (CVV), and bank hack transfers, among other things.
Therefore, we have dumps with pins for:
USA ($)
EURO DUMPS: UK, GERMANY, FRANCE, SPAIN, ITALY, NETHERLANDS, SWITZERLAND WORLD DUMPS: AUSTRALIA, DUBAI, CHINA, RUSSIA, JAPAN, CANADA.
CONTACT CUSTOMER SERVICES
Get instant money transfer to you cash app account from our freshly spammed cash app logs. We also sell fully verified Cash app accounts with documents fully ready for use. Hacked Cash app transfer 2022 not fake online cash app money generator.
Western union money transfer hack and hacked paypal money is available. We authorized from freshly spammed western union and paypal account. All we need is your paypal email. Full name & address is needed for hacked western union transfer 2022
We prepare fresh updates every one or two days. Sometimes updates appear in the shop daily!
We have several types of updates, some of them are very hot with high prices and some of them are regular with market prices!
You can request refunds right from your order. Just click refund request button and I'll check and refund!
Our Dumps With Pin Return Policy
If it's not too much trouble, please notice that our dumps are explicitly unrelated to such a local regulation, implying that they can operate at any time of day anywhere in the world. There will be no Regional Block Reading.
It should also be mentioned that high-balance dumps are assured to handle swipes of $2K-$3K at any given time. If any of your High Balance Dumps fail to adapt to this range, we will trade them for you.
Within 24 hours of purchasing a card, you can report it as broken.  You also have the option of substituting 04/Hold-call, 41/Lost card, 43/Stolen card, 05/Do not respect, and 62/Regional Restriction. However, faulty High Balance Dumps are replaced with a maximum of 15 minutes.
Gain Access to other helpful tools below
Be the first among your friends to get bank transfers, Cashapp transfers, Western Union, Paypal, or Venmo transfers. Same-day money transfer service for newbies and those who will be in need of our UNLIMITED MONEY TRANSFER.
Hackers get Credit Card Track1 and track2 data by planting Skimmers at ATM spots, gas station and In store POS. The aim is to steal card data when victims swipe their cards. The stolen data can be sold or used to clone a debit card for ATM withdrawal of victim's money from bank account.
The biggest black market for stolen credit cards is closing down.
Using cryptocurrencies including Bitcoin, Litecoin, Ether, and Dash, UniCC, the largest dark web marketplace for credit and debit card theft, has announced that it is closing down after receiving $358 million in sales since 2013. According to blockchain analytics company Elliptic, the anonymous UniCC operators warned users not to create any "conspiracy theories" regarding their departure in a farewell message posted on dark web carding forums. We are not young and our health does not permit us to work in this manner any longer, therefore it is [a] weighted decision.
Additionally, the UniCC team advised users 10 days to use their remaining balances while admonishing users to "not follow any fakes tied to our comeback." Platforms like UniCC serve as an underground market where cryptocurrency is traded for credit card information that has been stolen by malware skimmers from online shops, banks, and payments firms. After that, criminals utilize the cards to buy expensive goods or gift cards.
According to Elliptic researchers, this procedure, known as "carding," has grown to be a crucial component of the cybercriminal playbook. In addition to being used to assist launder and cash-out cryptocurrencies earned through other forms of cybercrime, the approach is also incredibly profitable in and of itself.
The market leader Joker's Stash, which announced its retirement in January 2021 after facilitating the sale of approximately $400 million in stolen cards, announced its sunsetting exactly one year prior. The researchers observed that UniCC immediately seized the top spot with a 30% market share as a result of Joker's Stash's bankruptcy.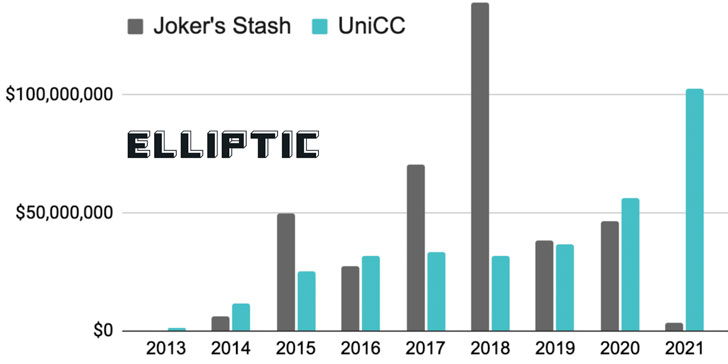 Additionally, it is the most recent of an increasing number of illegal markets that have voluntarily shut down over the previous year, including White House Market, Cannazon, and Torrez. Monopoly Market then became unreachable at the beginning of this month in what is thought to be an exit scam.
That being said, the black market for stolen credit card information has grown to be so lucrative that Bitcoin sales alone have exceeded 1.4 billion, opening the door for new entrants who often quickly fill the gaps left by out-of-business criminal organizations in a way that mirrors the constantly changing ransomware landscape.
The most notable of the group has been All World Cards, which first appeared in May 2021 and has since garnered attention by giving away information about one million credit cards that were stolen between 2018 and 2019 on a cybercrime forum. The majority of the stolen cards came from the State Bank of India, Banco Santander, and Sutton Bank.
According to the researchers, "the wave of recent departures has potentially been a catalyst for UniCC's retirement," as illegal actors see the turmoil as an opportunity to either flee with users money or retire in order to avoid increasing law enforcement attention.